| | |
| --- | --- |
| OeVEBRIA 2002 in Vienna/Floridsdorf | |
OeVEBRIA 2002 take place at the "House of the meeting" in Floridsdorf/Vienna, May 23-26, 2002. The First Austrian Arbeiter-Briefmarken-Sammler-Verein /Worker Stamps Collector Unites/ (ABSV) committed 2002 his 75-year old jubilee and was entrusted to this occasion with the alignment of the OeVEBRIA 2002 as Austrian main-event to the yearly "Day of the stamp".
Attendees were offered the opportunity to see the Hundertwasser collections which was a welcomed occasion for the friends of the Hundertwasser philately enthusiasts.
The Third Meeting of the Friends of Hundertwasser
We selected as our meeting place this year theMS "Vindobona". The MS "Vindobona" was originally constructed in 1979 and renovated by Hundertwasser in 1996. The MS "Vindobona" is operated by DDSG /Blue Danube Schiffahrt GmbH/ (advertising-brochure).
Our trip began at 2:00 P.M. We had selected the round-trip "Hundertwasser-Tour" on which it is possible to see the Spittelau heating plant of the company Fernwaerme Wien /Heating System Vienna/, and also the landing place near the KunstHausWien /Art-House-Vienna/ shaped by Hundertwasser. During our cruise on this beautiful ship we had ample opportunity to exchange news of the Hundertwasser philately. (photo).
A cachet cancellation was designed specifically for this meeting conducted aboard the MS "Vindobona".
Design and realization originated from the stamp to the first meeting: Hoffmeister

Production: The stamp-maker, Detlev Herrmann, Munich

Draft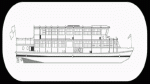 The ship's representation on the cachet cancellation originated with the ship´s illustration that was published on the internet by DDSG.
On the tour was the opportunity to embellish our proofs with the own stamp of the "Vindobona" (illustration). Since I felt the standard stamp for the "Vindobona" was too plain in its' design, I presented some weeks later an alternative suggestion (illustration) to the DDSG. They later replied that even though they found the suggestion very interesting, they had no interest in changing the stamp at the present time. If however, an interest in changing the design should occur in the future, they would contact me. I am tense...
At 5 :30 P.M. we returned from where we had first departed and our group assembled in front of the "Vindobona" for a parting picture in which to remember this meeting. (photo).